The Agricultural sector of India is undergoing a catalytic transformation. The industry is imbibing and adopting innovative technologies to improve the efficacies of farming operations, thereby enhancing yield. This has led the Agri-tech industry in India to grow at ~85% growth rate and the market is poised to reach ~11,000 Cr by the next five years.
1.The India Agri-tech market is flourishing with double-digit growth owing to the rapid increase in the number of Agri-tech startups with ~47% CAGR from 2014 to 2020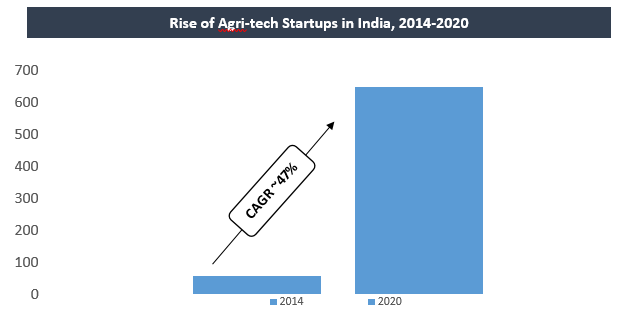 A number of Agri-tech startups in India have witnessed a sharp spike from ~59 in 2014 to ~600-700 by the end of 2020, growing at a CAGR of over ~47.0%. ~75% of agritech startups have incepted post-2013, with 2015 and 2016 witnessing the emergence of a maximum number of players. The adoption of agri-tech solutions among farmers and farmer organizations continues to be low and startups experience long gestation periods to develop trust in the community. Presently, around 8 Indian states including Delhi, Haryana, Tamil Nadu, etc., are each home to at least 25 agritech startups. Maharashtra and Karnataka together account for ~50% of the agritech startups in India. Many startups have even pivoted to B2B from B2C models in the last 5 years due to operation intensive nature of B2C models despite higher margins.
Interested to Know More about this Report, Request for a sample report
2.Rising number of start-ups has driven over 1 billion USD in investments in the agri-tech market in India in the last five years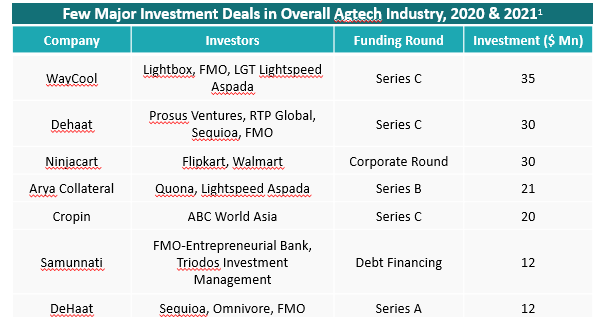 India has registered an impressive number of funding for agritech start-ups till 2021. Dehaat raised $30 mn in a Series C financing round led by Prosus Venture in January 2021. The company plans to utilize the latest round of funding for expanding operations in Madhya Pradesh and Rajasthan. Agri financial solutions provider, Sammunati raised INR 89.6 crores ($12 mn) in January 2021 via debt from two financial inclusion funds, FMO-Entrepreneurial Bank and Triodos Investment Management. Cropin raised $20 Mn in a Series C funding round led by Singapore-based PE firm, ABC World Asia. The company aims to use the latest funding for global expansion & driving the European market.
Visit this Link :- Request for custom report
3.The government is actively taking several initiatives to improve the Agricultural Infrastructure and boost the Agri-tech market to reach over INR 11, 000 Cr. in India
The Government of India has been increasingly adapting to the innovations and changes in the agricultural sector to keep up with the pace at which the sector is developing globally. Here, infrastructural development plays a major role in building a robust Agri-tech sector. The Agriculture Infrastructure Fund (AIF) is a part of the nation's agriculture fund and has supported more than 18,321 projects totaling INR 13,681 crore. In addition to this, 8,076 warehouses, 2,788 primary processing units, 1,860 custom hiring centers, 937 sorting and grading projects, 696 cold store projects, 163 assaying projects, and approximately 3613 other post-harvest management initiatives and community farming assets, and cold storage projects were established under the fund.