Few Diverse Global Players Dominate the Market Holding ~60% of Revenue Share Despite Presence of about ~350 Competitors Comprising a Large Number of Country-Niche Players and Some Specialist Players, finds a recent market study on North America Healthcare E-Commerce Market by Ken Research
Global Players that Constitute Just 10% of Total Number of Competitors Hold Largest Revenue Share of 50% While Country-Niche Companies Also Have a Strong Presence
A comprehensive competitive analysis conducted during the Research Study found that the North America Healthcare E-Commerce Industry is highly competitive with ~ 250 players which include globally diversified players, regional players as well as a large number of country-niche players having their own niche in healthcare e-commerce. The large global players comprise about 10% in terms of the number of companies and hold ~50% of the market revenue share followed by regional players. Most of the country-niche players are operating their e-commerce healthcare business offering selected specialty solution and some of these who successfully evolve to create new services for healthcare e-commerce often get acquired by large global players seeking to grow and diversify quickly.
Leading Key Players' Ongoing Efforts To Provide Healthcare Products Efficiently by adopting new Technologies Are Driving Their Revenue Growth From This Market
Detailed comparative analysis of key competitors available within the Research Study shows that key players such as Amazon.com, Inc., Walmart Inc., CVS Health, The Kroger Co., Walgreens Boots Alliance, Inc., and others are highly focused on providing a significant number of healthcare products through a different type of pharmacies such as online pharmacy, mail pharmacy, and others and are adopting advanced technology to make the supply chain for healthcare products more efficient. Furthermore, several companies are aggressively investing in new technologies and are partnering with other players to enhance their technologies to streamline the supply of healthcare products or services.
In February 2022, Deutsche Post AG planned to invest USD 400 million into its operational site including Memphis, Tennessee. The aim is to grow its pharmaceutical and medical device network in the U.S. and the company has planned to add nearly three million square feet of logistic space across the network to smoothen the trade between partners and patients.

In September 2020, Walmart Inc. partnered with Zipline to adopt drone delivery services. The company aimed to deliver products including health and wellness to the customers efficiently and in less time.

In July 2020, Siemens Healthineers AG and DHL Supply Chain joined forces with a service logistic agreement. The partnership aims to deploy digital and robotics technology to deliver quality and cost-improved services within the supply chain of Siemens Healthineers AG.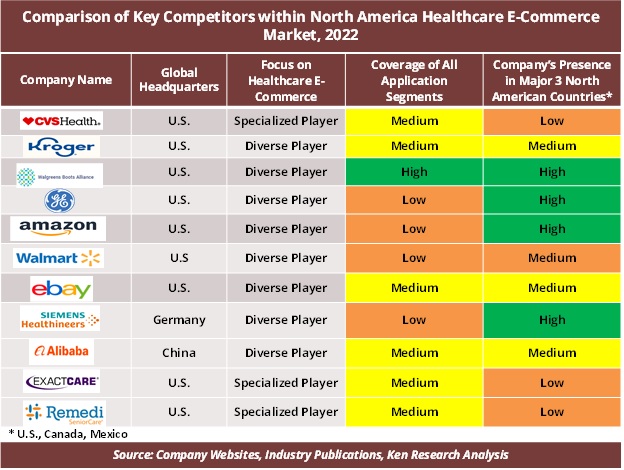 The Ongoing COVID Pandemic Led to the Supply Chain Digitalization of the Healthcare Sector
The COVID-19 pandemic has significantly changed the purchasing patterns of healthcare products among hospitals, clinics, patients, and others. The e-commerce platform has gained prominence, especially during the COVID-19 pandemic as the demand for drugs and medical devices increased with the increasing prevalence of various diseases like chronic diseases, and others. The COVID-19 pandemic disrupted the traditional supply chain of the healthcare industry and led to the transformation of the supply chain through digitalization. Digitalization of the supply chain was needed to improve the healthcare experience of patients and to provide healthcare products to the end-users efficiently.
Request for Sample Report@ https://bit.ly/3ShQnvb
The growing demand for healthcare products among end-users has enabled the players to invest in digital features to smooth the process of purchasing medical products and to provide the best possible e-commerce solutions to consumers.
In February 2022, CVS Health planned to spend up to US$ 3 Billion on digital features to enhance and improve the consumer experience on their pharmacy site.

The Kroger Co. received emergency use authorization from FDA for its COVID-19 Test Home Collection Kit in July 2020 and the company provided the diagnostic kit through their e-commerce website across the U.S. during COVID-19.

In December 2021, the U.S. Centers for Medicare & Medicaid Services (CMS) issued guidance to clarify the definition of Medicare Part D pharmacy dispensing fees for the support of Medicare beneficiaries who require a comprehensive level of pharmacy care at home.
As per the analysis, the initiatives taken by the key players such as investment, offering testing solutions through e-commerce networks, and others during COVID-19 have fueled the growth of the market. Moreover, the demand for e-commerce services increased in healthcare as the pandemic forced consumers to rely on product reviews and ratings, which resulted in a boost of confidence in the consumers to make purchases of healthcare products online.
The growing need for Easy Access to Medical Consultations among End-Users Led to Major Industry-Wide Developments, Acquisitions, Partnerships, and Expansion.
In December 2021, CVS Health partnered with Microsoft to use its technologies, including artificial intelligence and cloud computing, to accelerate its "digital-first" strategy. This partnership aimed to expand the company's reach and engagement with more online customers, and in launching new customer-centric services and offerings.

In May 2021, United Parcel Service of America, Inc. expanded its specialty pharmaceutical offering by starting new UPS Cold Chain Solutions. It is built to provide laboratories, healthcare providers, and pharmaceutical companies with a full, end-to-end cold chain service to meet their complex demands for delivering critical products worldwide.

In April 2021, CarePort, a market leader in care transitions and ExactCare, a national healthcare services company and pharmacy provider, announced partnership to support hospitals and health systems fulfill complex needs of high-risk patients at their homes.
Key Topics Covered in the Report: –
Snapshot of North America Healthcare E-Commerce Market

Industry Value Chain and Ecosystem Analysis

Market size and Segmentation of North America Healthcare E-Commerce Market

Historic Growth of Overall North America Healthcare E-Commerce Market and Segments

Competition Scenario of the Market and Key Developments of Competitors

Porter's 5 Forces Analysis of North America Healthcare E-Commerce Industry

Overview, Product Offerings, and Strategic Developments of Key Competitors

COVID-19 Impact on the Overall North America Healthcare E-Commerce Market

Future Market Forecast and Growth Rates of the Total North America Healthcare E-Commerce Market and by Segments

Market Size of Application / End-Users Segments with Historical CAGR and Future Forecasts

Analysis of Healthcare E-Commerce Market in Major North America Countries

Major Production / Consumption Hubs in the Major North America Countries

Major Production/Supply and Consumption/Demand Hubs in Each Major Country

Major Country-wise Historic and Future Market Growth Rates of the Total Market and Segments

Overview of Notable Emerging Competitor Companies within Each Major Country
Request for Sample Report@ https://bit.ly/3ShQnvb
Major Companies Profiled in the Report: –
CVS Health

The Kroger Co.

Walgreens Boots Alliance, Inc.

General Electric

eBay Inc.

Walmart Inc.

com, Inc.

Alibaba Group Holding Limited

Siemens Healthineers AG

ExactCare

Remedi SeniorCare
Notable Emerging Companies Mentioned in the Report
Option Care Health, Inc.

ModivCare Solutions

International SOS

Remdi SeniorCare

Exactcare Pharmacy

WellSky

FSA Store
Time Period Captured in the Report
Historical Period: 2017-2021

Forecast Period: 2022-2027F
Key Target Audience – Organizations and Entities Who Can Benefit by Subscribing This Report:
Healthcare E-Commerce Service Companies

Healthcare E-Commerce Association

Potential Investors in Healthcare E-Commerce Companies

Online Pharmacy Service Providers

Healthcare Products Providers

Healthcare Service Providers

Healthcare Solutions Providers

Healthcare Database Providers

Patients Database Providers

Healthcare Companies

Ministries of Healthcare

Healthcare E-commerce Companies

Healthcare Research Organizations

E-commerce Health Service Providers

Potential Investors in E-commerce Sector
For More Information on the Research Report, refer to below links: –
North America Healthcare E-Commerce Industry Forecast
Follow Us
LinkedIn | Instagram | Facebook | Twitter 
Contact Us: –
Ken Research
Ankur Gupta, Head Marketing & Communications
+91-9015378249